Civil KN95 Face Mask
Model: Civil
Size: 16*10.5 CM
Applicable People: Adult
Filter Rating: ≥95%
BFE: ≥95%
Color: White
Shelf Life: 2 Years
Disinfection Type: Non-sterile
Instrument Classification: Class ll
Safety Standard: EN14683:2019
Quality Certification: CE
Package: 50 Pieces/box; 40 boxes/Carton
Carton Size: 42.5*41.5*29 CM
PRODUCT Description
Product Description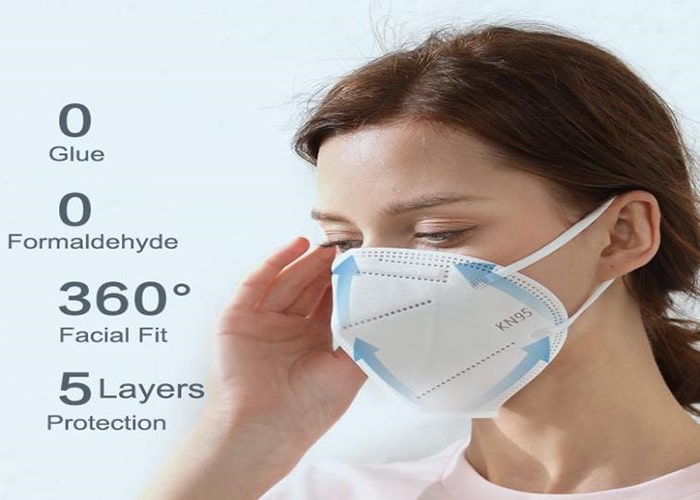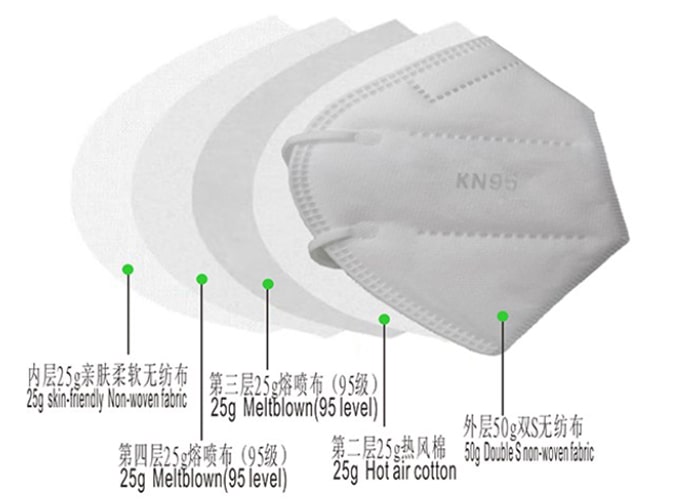 Product Display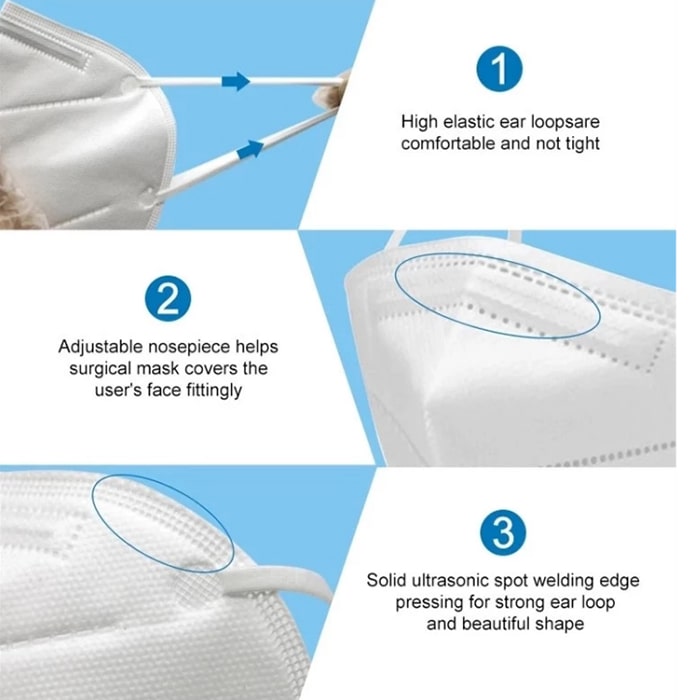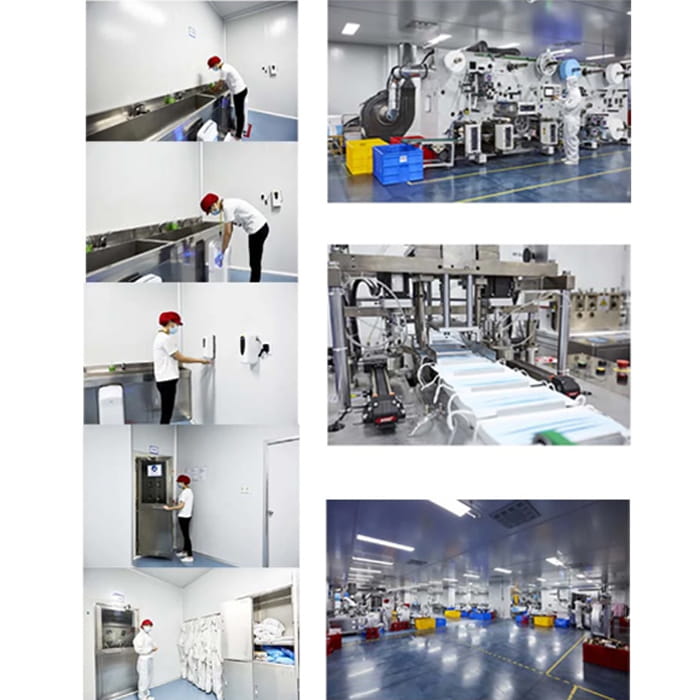 Packing and Shipping
1. FedEx/DHL/UPS/TNT for samples, Door-to-Door.
2. By Air or by Sea for mass production, Please advice Airport/ destination port.
3. Customers specifying freight forwarders or negotiable shipping methods.

FAQs
Are you a manufacturer or trading company?
We are a manufacturer also do trading business.
What's your MOQ?
100000pcs. For our first cooperation, your small order is acceptable, but the price is a little highly, you know, the price is based on quantity
How does your factory do regarding quality control?
1) 100% QC inspection before shipment.
2) Skillful workers care every details in handling the producing and packing processes. Quality Control Department is specially responsible for quality checking in each processes.
What is your payment terms?
Our payment terms only T/T. T/T 50% as deposit, and 50% before delivery. We'll show you the photos of the products and packages before you pay the balance.
Somethings You Need To know About Kn95 Civil Protective Mask
Keep in mind, most face masks are supposed to be used as soon as and changed as needed. Due to the restrained supply, many kn95 civil protective mask suppliers have been producing their masks as soon as possible.

If you are regularly cleansing your kn95 civil protective mask, it will start to deteriorate simply like many different substances would and will have an effect on how lengthy you can use your mask.

Rather than an specific matter for how many instances a masks can be reused, we can supply a guideline.

If you observe any deterioration of your mask, it need to be discarded. You need to absolutely look at the masks after every use and cleaning. Pay unique interest to how nicely the masks is fitting—if your masks straps start to lose elasticity it will no longer cowl your face efficaciously and ought to be discarded.

You can use widespread brown paper baggage to keep masks in whilst they decontaminate.

Paper baggage are to be used as they are breathable. Using sealed baggage will no longer work for this method. Follow the steps beneath to use the paper bag approach for reusing masks.

• Label masks or respirators on the outdoor of every bag with the wearer's title and date

• Doff masks except touching the inside

• Place the doffed masks for reuse into a new paper bag

• Store all the luggage with masks and wait a minimal of 5 days earlier than reusing masks.

• When the respirator is sought for reuse, do away with it from the bag and without touching the interior of the masks or respirator.

The COVID-19 pandemic has drawn unprecedented attention to the use of masks and fabric face coverings to prevent the spread of respiratory viruses, such as SARS-CoV-2. The fit of a mask has been identified as one the primary factors in determining the effectiveness of masks. If substantial gaps exist between the mask and the wearers face, air may take the path of least resistance through gaps and avoid filtration, both during inhalation and exhalation. A number of techniques, referred to as fit hacks have emerged to improve the fit of face masks. In this paper we test a variety of fit hacks on surgical masks and KN95 masks to compare their effectiveness. We identify fit hacks which greatly improved the fit of masks, and thus their effectiveness.

The civil kn95 mask is one of the most versatile facial protection headgear currently on the market. Although there are numerous designs available in many of the big name eyewear companies, what makes the Kn95 masks different is that they are designed to meet the needs of any age or gender. Therefore, regardless of whether you are an adult male or female, you can be sure to find a style of mask that will best protect your eyes.

It should also be mentioned that the civil kn95 masks are designed not only to protect from the harmful effects of airborne particles, but they are also designed to protect your eyes from the harsh realities of long term airborne exposure. As most people know, China is a country where air pollution is a daily reality. In fact, during several recent months, hundreds of thousands of Chinese have been forced to get air pollution masks in order to survive. Although there is no real way to make a definitive assessment of the safety of Chinese Airborne Contaminant (AC) masks, the number of deaths related to AC masks has steadily risen over the last few years. This has led many researchers to conclude that the use of air-borne particulates in the environment is significantly more dangerous than scientists once believed.

However, one of the major advantages of using the civil kn95 masks is that they do not suffer from the problems associated with air-borne filtration systems such as the N95 mask. N95 filters were notoriously expensive and difficult to replace. The civil kn95 masks are designed to meet the exacting requirements of military and commercial jobs that require them to be extremely protective. Moreover, they are extremely lightweight, meaning that they can be worn without causing any discomfort to the wearer.

In addition to ensuring that healthcare workers are safe from the hazards of ACs, the Kn95 masks are also highly useful to the public in other situations. A study was carried out at a hospital in Ohio, United States, which found that nearly five hundred workers on the hospital's floor were wearing the N95 masks as a protection against airborne particulates. More than two hundred of these workers were suffering from various types of breathing conditions, such as shortness of breath, lung disease, and asthma. Eighty-one percent of these Covid-19 patients were suffering from one or more serious respiratory conditions. Of these, one hundred and twenty-nine were in a position where their condition could have easily been improved by using a N95 filter.

In addition to improving worker health, the use of N95 masks and other similar respirator masks made by Knoll makes sense in terms of cost. As a cost saving measure, it is common for healthcare employers to reduce costs by replacing older, less effective air filtering systems with newer ones. They would also be wise to spend money on more advanced technology that does not compromise on quality. It is true that some N95 masks can be bulky, but there are many designs available that take up very little space. Many are designed to accommodate special clips to be attached to scrubs, work wear, or other personal protective equipment.

In conclusion, it can be seen that a company should consider purchasing a set of new reusable N95 masks when it comes to maintaining its workforce's health. The reduction in healthcare costs caused by the use of reusable N95 masks is a major step forward in improving the quality of health care. The use of N95 filters can also reduce costs associated with annual flu shots. Furthermore, Knoll N95 masks can contribute to the prevention of workplace-related diseases and the avoidance of serious respiratory conditions, such as asthma. As more organizations worldwide look towards N95 technology for its effective and economical implementation, the need for a reusable Knoll N95 mask will no doubt grow rapidly.

Over a year into the coronavirus pandemic, some of us are experiencing "COVID fatigue," and might find it tempting to be a little less vigilant about some of the best practices to prevent infection. Face masks, worn properly—covering the nose and mouth—are a must. But if you've seen more people allowing their masks to slip below their noses, you're not alone. Wearing a mask below your nose is more than incomplete protection against the virus—it may be as bad as not wearing a mask at all. That's because research suggests COVID-19 enters the body through the nose first, because nasal tissue is more susceptible to the virus.

The nose = a COVID superhighway?

"We have been researching this data for less than a year. Still, so far, it suggests that the primary attack of the coronavirus is in the nose, in the nasal epithelium, which is the skinlike layer of cells in charge of expressing odors," Leo Nissola, MD, told us in December. "It seems like the virus assaults support cells and stem cells in the nose." This might be what causes the loss of smell and taste many people experience with COVID.

The Kn95 Civil Protective Mask is one of the best masks available on the market for today's hazmat and chemical protective wear. Providing comfort and easy, comfortable wear, the Kn95 Civil Protective Mask offers maximum protection against fog, dust and viruses. Constructed with a durable powder-coated polycarbonate face shield and lightweight polypropylene ear pads, it has a wide range of washable linings making it an easily sanitizeable mask. The face shield has a rubberized trim to prevent chaffing and an adjustable chin strap for snug, secure fit. The dual moisture resistant nose piece and mouth guard provides extra protection from vapors and water splashes.

The non-woven, 100% nylon construction offers exceptional odor and taste repel properties. The polypropylene used in the construction of the face mask is capable of trapping thousands of tiny dust particles that can cause serious health problems, including nose and throat irritation. The porous nature of the material also allows air exchange, thus eliminating the uncomfortable, annoying feeling of having your nose steamed up from contact with too many dust particles. Like all masks on the market today, the Kn95 Civil Protective Mask is designed for ultimate fit and odor control, with a full face mask being designed to fully cover the entire face with air-drying, breathable fabric.

The kn95 civil protective mask is also available in a disposable version, offering maximum portability and convenience. The disposable face masks are made of high impact vinyl and are dishwasher and microwave safe. They also feature a double layer of UV protected urethane for maximum resistance to fading and color fading. The two inch square disposable masks come with a snap closure and a comfortable, anti-microwave fit. For additional comfort, many of these products feature an adjustable chin strap and an anti-bacterial liner.

The kn95 civil protective mask comes in a wide range of colors, styles and designs. Some of the most popular styles include the Hunter, Tactical, Black Ice, Enlightened, Obsidian, Radiance, Triad, Universal, and Pure. There are also many other related products that you may want to consider based on your needs and style preferences, such as face shields, goggles, eye protection, ear muffs, air purifiers and more.

The kn95 civil protective mask is currently offered online through a number of websites. If you prefer shopping with a company that you can trust and have a long standing relationship with, it would probably be best to shop through a reputable online store. It is important to make sure the store has a secure server so your personal information is safe, and they will deliver the product quickly when you make your purchase. A good store will offer an unconditional warranty on their products, so you know your satisfaction is guaranteed.

When you have a busy life and are always on the go, wearing your kn95 civil protective masks on a daily basis will allow you to keep your cool, while keeping up a comfortable fit. The air purifier included on the mask can also provide refreshing and therapeutic air into your home as well. This product is perfect for those who need to work in a variety of environments, whether at a construction site or at a busy airport. You will be able to perform your job safely and efficiently, while keeping yourself comfortable and fit at all times.
CONTACT US

Foshan Shijunhongmao Industrial Technology Co., Ltd.
We are always providing our customers with reliable products and considerate services.
If you would like to keep touch with us directly, please go to contact us